2017-2018 Student Board Candidates 
Alyse Weinstein: VP/Treasurer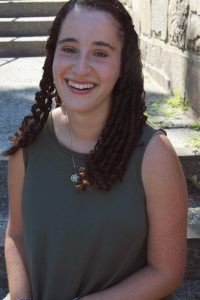 Hi! My name is Alyse Weinstein and I am a second year originally from Cleveland, OH studying Risk Management and Finance in the Lindner College of Business.  I'm running to be your Hillel VP/Treasurer because being a part of the Hillel board has been a rewarding and fun aspect of my college career, and I love getting to give back to the Jewish community at UC. I love getting to serve our student members and ensure they are getting the most possible out of Hillel. If elected, I have two main goals. I want to consolidate the budgets by working with the rest of the board to ensure we have the right money in the right places, and everyone understands their budgets and proper usage. Then, I will work with students planning every event to discuss how they will utilize a budget and stick to it, and make sure we are putting our money towards things students will attend. By making things transparent, proactive, and cooperative, we will better use and stick to our budget, and take advantage of what we have to plan better programs.
 I've previously been Hillel's Freshmen Representative and Social Chair, and am involved in several organizations on campus including Kappa Delta Sorority and the Panhellenic Council, College Mentors for Kids, and a job at MainStreet Event Services.  My favorite pass-times include eating chocolate chip cookies, eating mint-chocolate chip ice cream, and being a bandwagon fan of Cleveland Sports. I love UC and am so thankful to be a Jewish student on this campus, and love getting to serve our Hillel community.
                                                                                           Michelle Leschinsky: Program Chair and Secretary 

Hey everyone! My name is Michelle Leshchinsky and I am a second year student majoring in Neurobiology and minoring in Judaic Studies here at the University of Cincinnati! I am running for two positions: Program Chair and Secretary. I am a local, so I grew up in Cincinnati my entire life. I have always been involved with local Jewish programs and events, where I got the chance to develop my own Jewish identity. I have been a member of NFTY (a high school Jewish youth group) and even got the chance to work as a counselor at Camp GUCI this past summer! I am a member of the Chi Omega Sorority and a current David Project intern here at Hillel! Being a member of these organizations and more have helped me connect with leaders on campus and build relationships with others in the community.
I am very passionate about reaching out to new Jewish faces on campus and helping to plan events at Hillel that are of interest to our members. In particular, I am very interested in planning fun and interactive volunteer events that Hillel students can engage in, while giving back to the community at the same time! In addition to planning volunteer events, I look forward to organizing exciting social events that will bring more students to Hillel. Some of my ideas include:
Partnering with other student groups on campus to organize social events to contribute to the diversity of our community and to build relationships with other UC organizations.
Get to know current and new members of Hillel! I would like to take surveys of our members to collect feedback on the type of programming they would be interested in attending and the type of ideas they have!
Volunteering with other religious groups on campus (H20, MSA, The Edge House, etc.) at Cedar Village Retirement Communities, local food pantries, local schools and hospitals, and other places.
Work on new ideas to improve Hillel. Hillel has so much to offer for students and I want to find a way to help others see all the opportunities that are available to them.
Toren Rosenzweig: Jewish Life Chair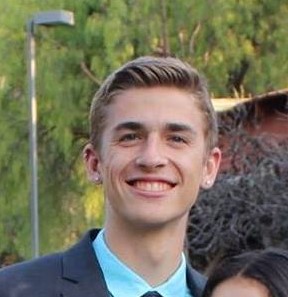 Hey, I'm Toren! I'm originally from San Diego and I came to UC to study Commercial Music Production at CCM. As your Jewish Life Chair, I hope to re-imagine the way we engage students in Judaism. Internally, I hope to expand our services to cater to all denominations. Whether observant or secular, spiritual or not, everyone should feel welcome. Externally, I want to get our students more engaged in the inter-faith community. Working with the Muslim Student Alliance and various Christian student organizations can be incredibly beneficial in bridging the gap between religions and overcoming perceived differences. Further, I hope to continue our incredible holiday programming and create exciting events that engage people.
Grant Halasz: Jewish Life Chair
My name is Grant Halasz and I am a freshman in the exploratory program. I was born and raised in Centerville Ohio and thanks to the help of various summer camps and Hillel, I have really found my true Jewish Identity. I am also a brother at the Alpha Epsilon Pi Fraternity on campus. It has given me the chance to be who I truly am surrounded by a bunch of awesome Jewish guys. I have loved helping at Hillel with the services and any Hillel event for that matter. It is always a nice place to just hang out with a bunch of cool Jewish people.
My Platform is as follows:
* Keep services in a reform sense.
* Work with my partner to form a band to help with services.
* Have all of the programs that I am a part of have a Jewish feel to them.
* Re-do the service packet to make sure that all of the prayers we use are in there.
* Keep changing the service just a little. So that it is not the same every week.
o Incorporate the "theme" of that Shabbat into the service, not just dinner.
Congratulations to our new Student Board Co-Presidents Ilana Matheson & Erick Madis! 
Meet YOUR 2016-2017 Student Board
The Student Board is made up of 9 officers. These officers are in charge of overseeing Hillel programming, Hillel Committees, Campus involvement, programming budget, and more!
Feel free to contact any board member regarding ideas, how to get involved or suggestions.
Ilana Matheson
Co-President

Max Bleich
Treasurer/ Vice-President

Amy Ostrow
Secretary 
Biological Sciences, 4th year
Julia Draznin
Social Action/Tikkun Olam Chair
Entrepreneurship and Marketing, Spanish, 2nd year
Toren Rosenzweig
Jewish Life Co-Chair
Commercial Music Production, 1st year
Grant Halasz
Jewish Life Co-Chair
Exploratory, 1st year
Alyse Weinstein
Social Chair
Business & Organizational Leadership, 2nd year
Liza Vilenchuk
Bearcats for Israel Chair
IEC/Hillel Israel Student Intern
Emily Wolff
wolffer@mail.uc.edu
Organizational Leadership (HR track), Criminal Justice, 2nd year