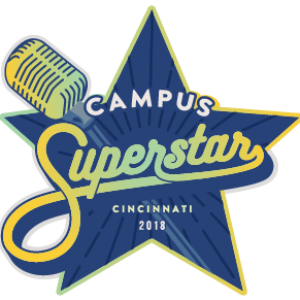 About the Competition
Campus Superstar is a regional vocal competition for full-time college students. All students who love to sing and perform are welcome to audition. Semifinal rounds are judged by Cincinnati celebrities and performance pros. The 2018 finals will be held Sunday, April 8, 2018, at the Aronoff Center's Jarson-Kaplan Theater.


The 2018 finalists
Click on a name to hear each singer
Singer, songwriter, actress, model, and entrepreneur Ebony Mason is a Cincinnati native and an Associate of Arts major at Cincinnati State.  From singing in her church choir at the age of four to stepping out as a soloist, she has intermingled with some of the biggest names in the music industry today. Ebony's music also stretches to the realm of her acting career. Her voice can be heard on stage and on film. In 2016 Ebony became Cincinnati's first Campus Superstar!