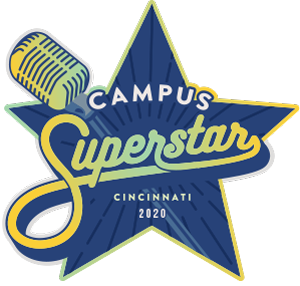 Become a Superstar Sponsor
On Sunday, March 8, 2020, our finalists will compete for a $5,000 grand prize at the Aronoff Center for the Arts, and the winner will be chosen by the audience!
This regional vocal competition for undergraduate college students celebrates Cincinnati's young talent and promotes the image of Cincinnati as an attractive destination for young people.
Proceeds from Campus Superstar will support Cincinnati Hillel's efforts to build bridges between interfaith and multi-cultural communities on campus.
Cincinnati Hillel is a gathering place for Jewish college students and their friends. Through programming, leadership development, education and community service, Hillel strives to enhance their college experience socially, intellectually, and spiritually.
Stage Recognition
Logo on Promotional Posters
Onsite Signage Recognition
Full Page Playbill Ad
10 VIP Tickets
VIP Reception
Recognition on Website
Stage Recognition
Logo on Promotional Posters
Onsite Signage Recognition
Full Page Playbill Ad
8 VIP Tickets
VIP Reception
Recognition on Website
Logo on Promotional Posters
Onsite Signage Recognition
Full Page Playbill Ad
6 VIP Tickets
VIP Reception
Recognition on Website
Onsite Signage Recognition
Half Page Playbill Ad
4 VIP Tickets
VIP Reception
Recognition on Website
Quarter Page Playbill Ad
2 VIP Tickets
VIP Reception
Recognition on Website