"Enrich the lives and strengthen the Jewish identity of Jewish college students in greater Cincinnati and build bridges to Jewish life after college."
Cincinnati Hillel engages hundreds of greater Cincinnati Jewish college students through a creative, energetic and pluralistic Jewish campus presence that fosters a lasting commitment to Jewish life and provides a solid bridge to the Jewish community after college.
Click here to learn more about Cincinnati Hillel.
UPCOMING EVENTS: Stay tuned for updates on summer programming
Community Events:
UPDATE: Eric Fingerhut's schedule had a last minute change and he is no longer able to visit our campus. We will still be hosting Ice Cream on Thursday, May 26th at 2pm – join the Hillel staff for ice cream and schmooze!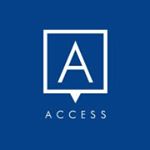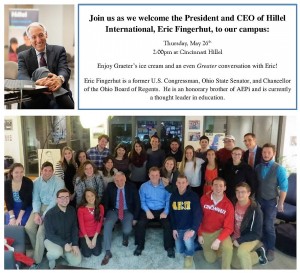 Recent Photo Albums:
Mazal Tov to the recipients of our 2014-15 Student Leadership Awards:
Ruach Award for personal leadership and spirit: Ilana Matheson
Straight Street Award for dedication to our Hillel House: Amy Ostrow and Rachel Halasz
Shirley M. Lutchin Award for outstanding service to the Jewish community and campus: Matthew Goldenberg
The Hillel Honor Key for a graduating senior who has demonstrated dedication to Hillel and who has left a lasting impact on the community: Daniel "DJ" Kaplan